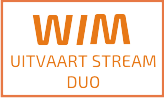 Real-time streaming DUO
€695.00
Real-time streaming van huwelijksfeest of rouwceremonie is mogelijk met camera opstelling tot maximaal 4 camera's binnen één locatie.
In DUO opstelling registreren wij met 2 cameramensen en maximaal 4 camera's of HDMI connectie met laptop.
Indien de Real-time streaming DUO, gewenst is bij een rouwceremonie, dan is een montage van de registratie bij de prijs inbegrepen.